Secura Key SKC-03 Barium Ferrite Card for Insert Readers w/ Facility Code
Details
Secura Key SKC-03 Barium Ferrite Card for Insert Readers w/ Facility Code
Our most popular card, each SKC-03 card contains a Barium Ferrite insert that is encoded by magnetizing spots in a specific pattern with specific polarities. These cards have a facility code that is common to all of the cards at a particular site.
These cards do not have individual ID numbers, but may be ordered with sequential numbering to aid in card accounting.
Card Size:
2.125" Wide x 3.375" Long x 0.044" Thick
Standard Cards:
Unless otherwise specified, these cards will be printed with Art File 7729, and the facility code and card number will be laser engraved on the bottom edge of the back of the card.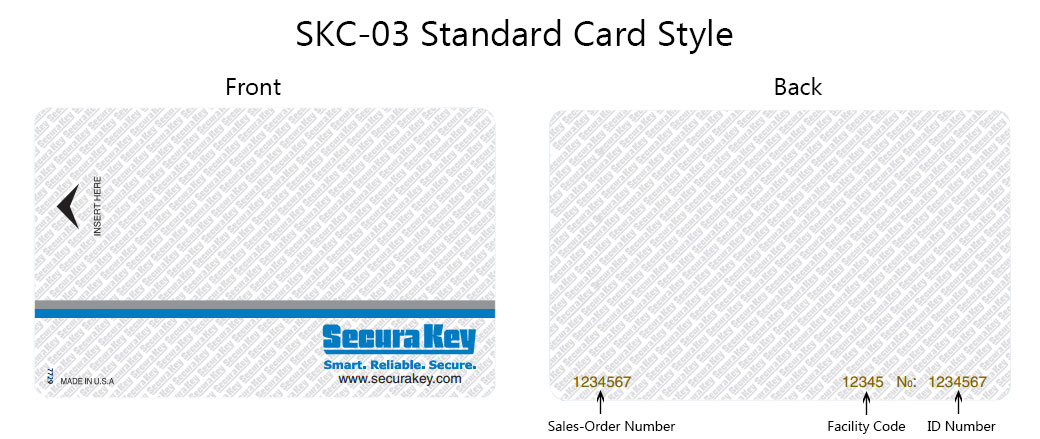 Custom Printing Options:
Secura Key can pre-print SKC-03 Barium Ferrite cards with custom graphics. One-time tooling charges (per color, per side) are incurred for initial setup, and printing charges (per color, per side) are incurred for each run. There is a 250 card order minimum for all custom printed cards.
Please review our Guide to Ordering Cards for more information on ordering cards with custom artwork.
Photo ID Options:
Dual Bond Cards: If you'd like to make self-laminated ID cards, order the Photo Flap. Your cards will arrive with a clear plastic overlay flap and a strong adhesive.
Direct Image: If you'd like to print directly on your cards, order SKC-03-2 cards with Art File 2112 (Black). The preprinting is limited to the top-front face of the card and leaves ample space for a photo, etc. Your card printer must be capable of printing cards with 0.044" thickness.
Card Re-Orders:
Are you re-ordering cards? When re-ordering these cards, please specify the existing facility code and provide the starting card number (generally one number higher than the highest existing card).
| | |
| --- | --- |
| SKU | SKC-03 |
| Manufacturer | SecuraKey, Inc. |
| Access Type | ISO Card |
| Card Type | Barium Ferrite |
| Custom Printing | Available |
You may also be interested in the following product(s)