Benefits: E-Access Vs. Nova 16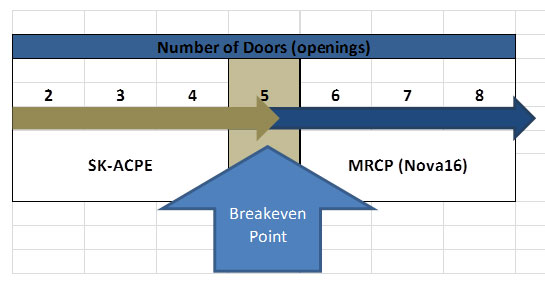 Are you looking for a sound access control system for your home or office? Secura Key has been providing people with the best equipment in electronic access control since 1971. Both the e-Access and Nova 16 systems are two of the top access control platforms in the industry. But what are the differences between these two leading systems?
e-Access Kits
The e-Access kits from Secura Key feature easy to use software with impeccable results. Each e-Access control system can operate up to two doors. This state-of-the-art technology allows you to daisy chain multiple e-Access kits together.
The Nova 16
The Nova 16 is a multi-reader access control panel system that eliminates cable runs from individual doors. Based on a powerful 32-bit RISC processor, it provides major upgrades to Secura Key's legacy SK-NET system. Each panel connects to the local area network using a built-in Ethernet connection. It also connects to a high speed, RS485 peripheral network that supports up to 16 Smart Readers, each controlling a single door or gate.
Wall Space
Take into consideration the wall space involved with two e-Access kits. If you will be controlling access to three or four doors, you will need to mount two separate control boxes. The Nova 16 handles multiple doors connected by one wire. If you need more wall space, the Nova allows you to control multiple doors with only one access control box.
The Best Solution with the Lowest Price
If you're on a tight budget, we offer some simple advice in choosing an access control system. If you will be using your access system on 4 doors or less, then purchasing one or two e-Access kits is the cheapest option. If you will be using your access system on 5 or more doors, then Nova 16 is the best option. If you currently have four doors or less but are considering adding more doors to your system in the future, then Nova 16 will ultimately be the cheapest route.
Still have questions? Our professional sales team is here for you. Dial toll-free at (800) 878-7829 or email sales@securakeystore.com today.
Contact Us